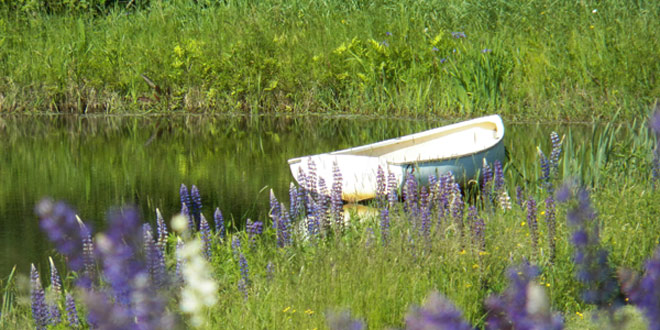 A perfect day…a perfect life…and the ultimate personal sanctuary. Enjoying all the luxury one can hope for. 
There are many paths to abundance – This is mine. 
A sunny morning, 65 degrees with a promise of 80.  I take my coffee poolside and watch the blue water sparkle in the morning sunlight. 50 yards in the distance my faithful sloop is moored, waiting patiently, wondering how many lobsters are snoozing in our traps.  Be patient little ones, this silence won't last long.
Sure enough, Bessie cuts though it like a shrieking wretch. Mooooooo!
Aw Zak! He's tripping his way to the barn. Yup, hung over again. Sometimes ya just gotta shake your head. OH Zak's the handyman; lives in the guest cottage.
It's a lovely country home on the Atlantic waterfront.  A cow, a few colorful chickens that lay pastel-colored eggs. There's a few sheep to feed my spinning wheel and of course the usual cats and dogs and bunnies. OK, catch the lobsters, feed the animals, pick the lettuce, grab a bite…
It's nearly nine before I make the shower. Today I'm cutting out the embellishments from yesterday's Salvation Army pickings. Some really beautiful appliqués find their way there. I use them to make clothes for children and dogs. I cut off at tweens… too fussy and complain too much. Like it's the shirt's fault you look fat?
I like sewing on the bling. These are the one-of-a-kind items and with the highest price point. Don't tell anyone their genesis was the rag bag. Everything is cut and it's time for lunch. Lobster and corn on the bone, yum!  Extra crustaceans get a quick blanch and an ice bath for freezing.
We grow our own food, produce our own energy and make our own cheeses.  We live on the seafood we catch but on occasion I'll head to the market for some divine swine or a hunk of beef. I have to sneak by Bessie though, so she doesn't see.  She thinks I'm a vegetarian you know.
Guess I'll work on that cookbook that has been 6-years in the making now – Black Forest Pork is simmering and savory.  I like to photograph food in natural light so I'd better get cranking.
The table is set poolside, late afternoon with the ocean in the background… old gothic-looking chairs, indigo blue china trimmed in gold with terracotta flecks, colored napkins and centerpiece of lemons and persimmons nestled into the greenery. The stage is set.  Food is ready and plated.  Give it a misting of olive oil for shine.  Snap away!  Care to join me for dinner?