How do I make a perfect Wienerschnitzel?
Wienerschnitzel is a rather simple veal dish. A somewhat expensive meat I find that some of the cost can be cut by purchasing a couple of T'bone veal chops and trimming out the bone rather than purchasing the veal scallops. You can achieve close to the same effect by pounding the veal. If the chop is ½ inch thick, put between two pieces of plastic wrap and pound to about double in size and half the thickness. If very thick chop you can use a sharp boning knife and slit them in half lengthwise to the desired ½ inch then proceed to pound.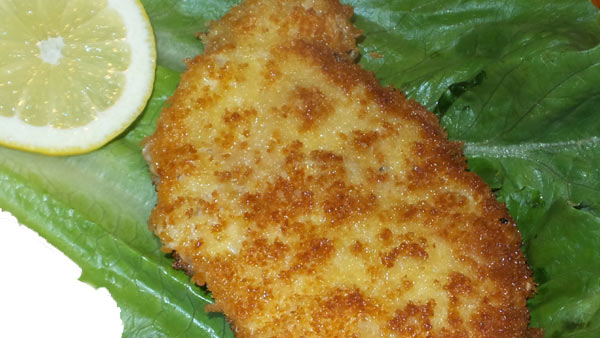 As opposed to some of the sharper flavors of Sauerbraten or Rouladen, this dish has a gentle flavor.  It is ideal for the introduction to German food to newbie's.  Also, it is much simpler to prepare. So, how do I create the perfect Wienerschnitzel?
2 half inch veal T'bone chops, bone trimmed and pounded as stated above.

½ cup panko bread crumbs

1/2 cup all purpose flour

1 egg, whisked in shallow bowl

½ teaspoon salt

½ teaspoon pepper or to taste

Dash of nutmeg

3 Tablespoons Butter

3 Tablespoons Olive Oil

1 lemon
Place bread crumbs and flour each on its own piece of aluminum foil. (helps with cleanup)
Prepare wet mixture: egg, salt, pepper and nutmeg. (I like to use the whole nutmeg and grind it on a rasp) Nutmeg has a strong flavor so be careful to add only a tiny bit.
Dip pounded veal in flour, then in egg and finally coat in the crumbs.
Place prepared cutlets on a waxed or parchment paper line plate and refrigerate for a few hours. Overnight is ideal.
Prepare to fry
Take veal out of the refrigerator and let sit until they are room temperature.  (This is something I nearly always do because the cooking can be better regulated.
Melt butter in medium fry pan, add oil and let heat until quite hot. I judge by holding my hand flat over the pan about an inch over the oil. If I I can't hold it there for more than 3 seconds it's hot.
Drop the veal into the oil, let sizzle for about 3 minutes per side.  End by squeezing a few drops of lemon over each chop, flip once more and remove to a paper towel lined dish. Serve with a slice of lemon.