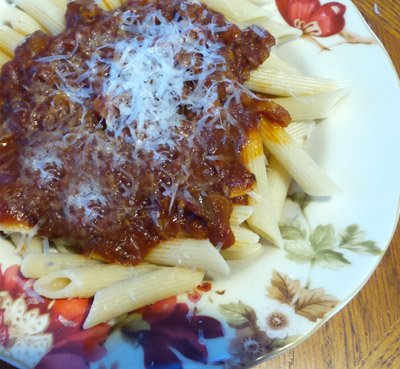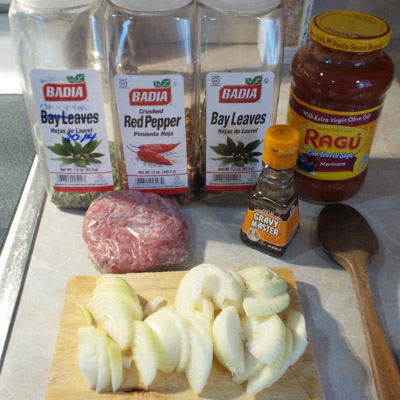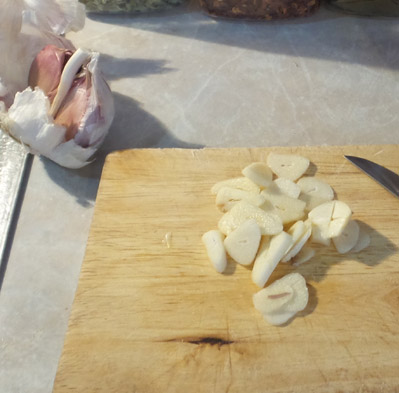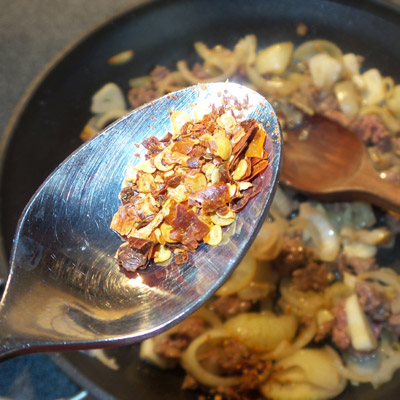 It's Saturday night and my family is out of town. I'm kind of lonely and thought I'd make myself some pasta with meat sauce. Sigh, but I thought, it's only one person. That's a lot of work. So I decided to whip up one of my cheat sauces.
Yes, I admit it, I sometimes use Ragu. It's really little more than tomato paste, olive oil, tomatoes and a few spices. By the time I doctor it up, it's really good. Not as scrumptious as if I used my own fresh tomatoes but suits my taste on a night like tonight. Sometimes it can be a bit sweet, read on for the solution to that problem. 
I always use the Marinara. I want the tomatoes to be as simple as possible, eeeeuuuu I can't imagine buying a jar with meat in it. I can use my own meat and vegetables and quite prefer it.
Tonight I tested a non-stick skillet and don't like the non-stick for this dish. There aren't any toasty bits at the bottom of the pan, sometimes called fond and humorously referred to by Chef Anne Burrell as the crud.  These bits when liquid is added make a rich flavor. 
Now to really make it special I bought a block of Grana Padano cheese. Let me tell you, bring money!  But it's worth it. You know that green can of Parmesan cheese we all know too well? It's not even in the same family as far as I'm concerned. That shiny green can isn't cheap either so I say invest in a small wedge of the best. Go to the hardware store and buy a rasp for grating if you don't have a grater. Grate that fresh on top of your steaming hot meal and….heaven does exist.
Interesting note: Grana Padano and Parmigiano Reggiano are different cheeses made somewhat differently and aged differently. Taste differences have much to do with the type of grass the cows are fed. Parmesan isn't actually a cheese variety at all. It's a generic term for hard cheese that pairs well with Italian food. I believe the term had its birth in the US.
Ingredients
4 Tbsp extra virgin olive oil separated 3 T and 1 T
1 Medium onion, sliced
2 Plump cloves of garlic, sliced thin
1 Beef hamburger patty
2 Medium bay leaves
1/2 tsp crushed red pepper
1 Tbsp Gravy Master
1 Jar Ragu prepared sauce (marinara)
1 tsp dried oregano
1 tsp dried basil
A couple of lemon wedges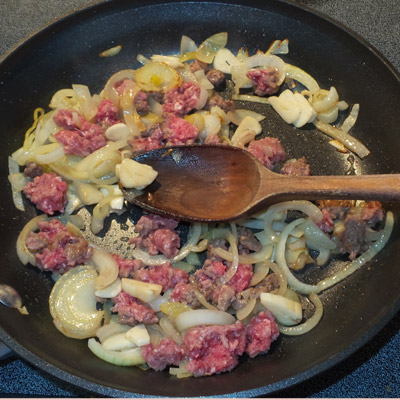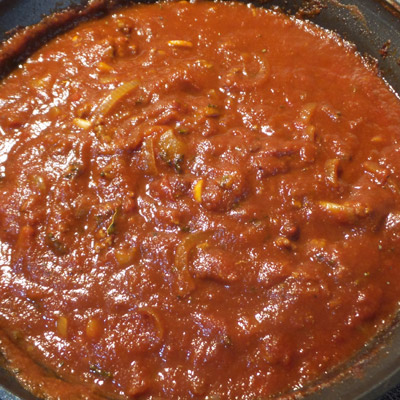 Saute your sliced onions in the 3 tablespoons of olive oil until just starting to get transparent. Crumble the hamburger patty in the pan and cook until about medium rare then add the sliced garlic.Saute these ingredients together until pink in the meat has gone away being very careful not to burn the onions or garlic. (Onions and garlic are very sweet when cooked but take on a bitter flavor if burnt) 
Add the hot pepper flakes and the bay leaves along with the Gravy Master. I like this ingredient because it adds some richness to the sauce. Stir together and add your jar of Ragu Marinara. Cover and let simmer for about 1/2 hour. At some point near the end of the half-hour, taste. If the sauce has too much sweetness from the tomatoes, I counter that with a squeeze of a couple of fresh lemon wedges. 
Add the oregano and basil, drizzle remaining tablespoon of extra virgin olive oil,  simmer for another 5 minutes, remove from heat and leave covered. Set aside while cooking the pasta.
Prepare your pasta according to the directions on the package. I prefer mine to be a little on the firm side. Italians call that Al Dente. When they get too soft and white it tends to have a mushy texture which is not what you want. 
Drain pasta and serve with sauce over the top. Grate you cheese and enjoy