A magical morning with a little nature and lots of French toast.
This morning after checking out the baby birds in our nest, it was time for breakfast. French toast is her fav so that's what I made. Here is the recipe:
2 slices of your favorite bread (I like Italian)
1 egg
1 tsp of sugar
1 Tsbp of water
Butter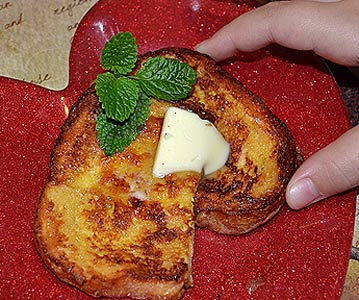 Whip up the first 4 ingredients in a small bowl and set aside.
Melt a tablespoon of butter in fry pan until it sizzles. Dip bread, each side in the egg mixture and place in pan until brown, turn, brown again and serve.
Garnish with a little mint. (I have a metallic heart dish for my little girl)
Before cooking, Sage and I ran out to the yard to pick some mint. She was quick to pick up on the fact that it is lemon mint and smells soooo good. When I told her we would garnish the toast with the mint leaves she said "You're fancy!" I said, "Yup, nothing but the best for my girl."
Do you have something special you cook for your grandchild or little one?
Google+ Comments