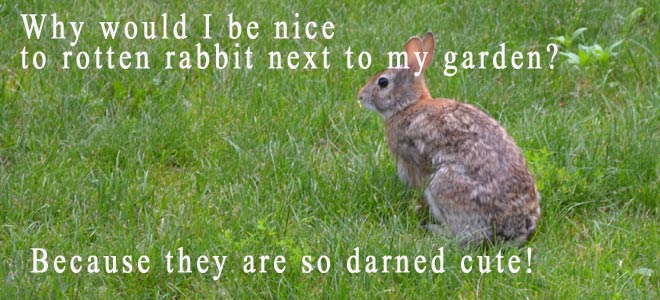 Cause they're so darned cute. I couldn't resist making cooing noises and trying to get close. I know the little creep was trying to get at my lettuce. Good fences make for happy gardeners. I'm thinking he can't get in there. Harumph!
As with all plans the actual garden layout changed up a little bit. All in all it turned out very well and the plants are looking happier than I have seen them the first week of June. Except that the plan for 6 tomato plants turned into 9…I can't resist those heirlooms.
With the exception of the last of the potato seedlings, yes I know, I'm late; it's time to move on to the rest of the landscape. Now let's see what kind of trouble I can get into out there….I could hide some radishes in there and a few Brussels sprouts perhaps?
Do you plant edibles in with your flowers and shrubs? What do you camouflage in there? Make it something the rabbits can't find.
Google+ Comments