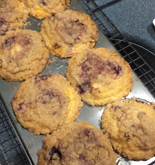 Personally I love a sweet in the morning. Now I know muffins are basically cake. Yup, that's the deal. But I do like them so….what do you do about being charged nearly $2 for a single muffin? Well make your own of course.
Really, when my mom wakes up and says "I want a muffin" I dutifully run out to the pink D and D place and pay a buck plus eighty cents for her muffin. While I'm at it I buy one for my self and at the end of the whole transaction, I lose nearly a finsky. The better part of a five dollar bill.
That same cost will feed me muffins for the entire month. OK , let's put the Pink D execs on a diet and take our five dollars times 30 days in a month….a whopping $150  and  keep that $$ in our checkbooks.
Preheat your over to 400 degrees F.
Butter muffin pan well. I use a muffin pan with 8 muffin capacity. This yields somewhat larger muffins than the traditional 12 per tin.
Measure out all ingredients and set aside:
Muffin batter
Combine and mix dry ingredients. Mix liquid ingredients together and then mix with flour mixture.
Crumb Topping: Put ingredients in a bowl and then use a fork or pastry blender to make the butter become like little balls in the mixture. (You can also use a fork, the tool makes it a bit easier.)
Divide batter between the muffin tins. Add a bit of chopped nuts on top Push 3 raspberries into each muffin Top with crumb topping
Bake for 20 to 25 minutes in the preheated oven, or until done.
Test doneness by inserting a toothpick into the center of a muffin. If it comes out clean…they are done
Let cool on a rack for a few minutes to set before popping them out of pan.
Muffin Ingredients 

1 1/2 cups all-purpose flour
3/4 cup white sugar
1/2 teaspoon salt 2 teaspoons baking powder
1/3 cup vegetable oil
1 egg
1/3 cup milk
24 fresh raspberries
1/4 cup pecans
Crumb Topping Ingredients

1/2 cup white sugar
1/3 cup all-purpose flou
1/4 cup butter, semi softened and cubed
1 tsp cinnamin
Google+ Comments